Radio Ninesprings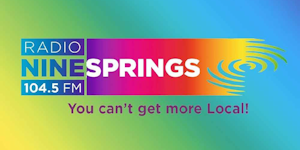 WHAT IS RADIO NINESPRINGS?
Radio Ninesprings is a new Local Radio Station for Yeovil and South Somerset. It was awarded a five year community broadcast licence by Ofcom in October 2017 and launched live on-air 1st October 2018. The station broadcasts from a studio in Yeovil town centre and has a second studio for training at Yeovil College. Radio Ninesprings is a 'proper' local radio station, anchored within the community that it serves, broadcasting 24 hours a day, 7 days a week, with 180,000 people living, working, and being educated within its licensed broadcast area.
WHAT DOES RADIO NINESPRINGS SOUND LIKE?
Radio Ninesprings plays a mixture of popular music from the last six decades. There is national & international news from Sky News on the hour and weekday local news from South Somerset on the half-hour between 7:30am and 6:30pm, regular interviews with local people talking about local issues and local organisations feature along with local music and community news.
HOW CAN I LISTEN AND INTERACT?
Radio Ninesprings can be heard on 104.5fm across Yeovil and most of South Somerset
We will be available on 103.3fm in Wincanton and 107.6fm in Chard from early 2021.

Listen on-line by clicking here.

You can also find us on some Smart Speakers:

Say "Alexa enable the Radio Ninesprings skill", thereafter "Alexa play Radio Ninesprings

Radio Ninesprings is also available on Amazon TV.
GETTING INVOLVED?
Radio Ninesprings is open for anyone to join but we look for people who have a genuine interest in Local Radio, in music and presentation, news and journalism, and the community where they live. We look for commitment, enthusiasm, creativity and ideas and for people who can make a positive contribution to the radio station..