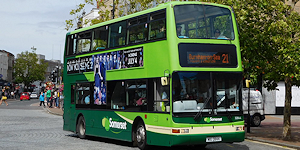 Bus passengers can now travel on most routes in Somerset for just £2.
The lower single fare is part of an initiative funded by the Government aimed at boosting bus use. It's also been launched to help people who use the bus to save money as the cost-of-living crisis continues to bite, fuelled in part by high petrol and diesel prices.
The £2 single fare is available on the majority of routes in Somerset and is scheduled to run to the end of March.
The fare cut is part of the 'Bus It' campaign, launched by Somerset County Council and the Somerset Bus Partnership to encourage more people to use the bus at a time when many routes are under threat due to lack of use.
The operators offering the £2 fare in our area are:
First South West
Buses of Somerset
South West Coaches
Somerset County Council says if more people are persuaded to catch the bus .. it will make a difference to the climate and to the local environment.