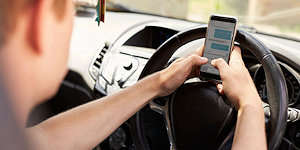 Somerset County Council's road safety team is working with partners to urge drivers to keep their fixed eyes on the road.
Driving while using a mobile is one of the top five factors in fatal and serious road injuries and research has found that drivers who use a mobile phone while driving are 4x times more likely to be involved in a collision, less likely to see road signs, take longer to react to hazards, more likely to enter unsafe gaps in traffic.
Using a mobile phone whilst driving is the focus of a new national campaign led by the National Police Chiefs Council, that Avon and Somerset Police is supporting.
Police recommend that phones are put well away from a driver's reach and are either switched off or on silent while driving, as criminal penalties of using a hand-held phone when driving include 6 penalty points and up to a £2500 fine.
You'll also lose your licence if you passed your driving test in the last two years.
If you have video evidence from a dashcam or cycle-cam of someone using a mobile phone at the wheel then this can be reported to Avon and Somerset Police via the police website by clicking HERE.