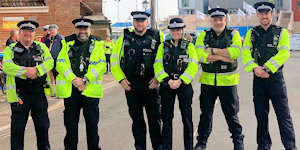 Avon and Somerset Police has launched a new recruitment campaign, asking people to join, to begin a second career as a volunteer police officer.
Volunteer police officers or Special Constables as they're known, provide an important link between their community and the police and bring a different perspective to policing.

They hold the same powers as regular police officers and work alongside them to prevent and detect crime, wearing identical uniforms and issued with the same personal safety equipment and communication devices. Specials Chief Officer, Andy Bennett, says the role provides a unique opportunity to spend time making a significant difference within communities.
Avon and Somerset Police is particularly interested in receiving applications from people with an ethnic minority background, and from women, wishing to work as Special Constables.
To find out more or to join as a volunteer police officer, visit www.avonandsomerset.police.uk/specials