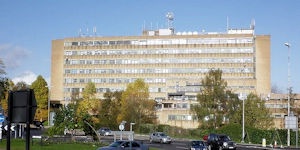 A major project is underway at Yeovil Hospital to provide extra space and new patient facilities within the building.
The government has given £15 million pounds towards the cost of the works, which include building an extension on the fourth floor and refurbishing the main operating theatre.

Yeovil Hospital says the work is being carried out in two phases.

The first phase will see the main theatre given a significant refurbishment, including the provision of increased space in the recovery area, together with the addition of a fifth operating theatre that will increase the number of operations that are performed at Yeovil Hospital.

The second phase of the project is the addition of a new twenty-bed ward made up of single and en-suite rooms, with a dedicated orthopaedic ward with physio space for early rehabilitation to take place, to help patients return home as soon as possible after an operation.

Yeovil Hospital says the improvements should address the significant backlog of elective surgery and improve the all-round experience for patients.