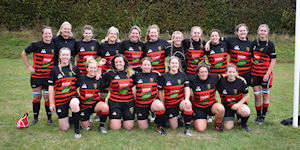 Fresh out of development, the Crewkerne ladies team had their first league game away to Dorchester on Sunday afternoon.
Crewkerne took an early lead after some quick tries and some successful conversions from Molly Daniel. Dorchester did try to get back into the game, but the score gap proved too much of an ask with Crewkerne eventually winning 22 – 38.

The win will mean a lot to the ladies, who have been in development for several years and have had to adapt training over the course of the Pandemic, with many even training in their own homes. Club Chairman, Kevin Shurvinton said:

"As a club, our first aim is to fully support our community. The development of our ladies team has enhanced our achievement of that aim. The spirit and enthusiasm they have put into every training session has been a pleasure to watch and be a part of. The club is proud of their performance and win today. They are still in the infancy of their rugby journey and we are collectively excited to see where that takes them. Well done all to the coaching team and each player, this is the reward for your dedication and hard work."
Crewkerne ladies next take on Westbury ladies on the 10th of October.