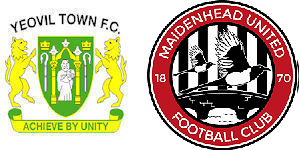 Yeovil Town were held to a goalless draw at Huish Park by Maidenhead United for the third season in succession.
After a quiet first half, Yeovil improved in the second but didn't find a way to break down the Magpie's defence.
In truth, the first half was tame, with chances few and far between for both sides. Grant Smith was the first goalkeeper called into action, with Kane Ferdinand forcing him into a save down to his left after 9 minutes had been played.
At the other end, Yeovil largely looked most dangerous on the break, but the slippy conditions saw Yeovil struggle to find their final ball or slip at the vital moment.
The only real attempt on goal for the Glovers in the first half fell to Clark who hammered an effort over the bar from around 25-yards out.
Late in the half, Maidenhead forced Smith into a good save after Emile Acquah burst into the box, but that was the best it got for both sides before the break.
The second half saw improvement for the Glovers, who were the side in the ascendancy in the second half.
Set-pieces seemed to be the most common route to goal, with loan addition Georgiou providing a dangerous delivery. With 69 minutes played, his deep free-kick was met by Josh Staunton, but he could only turn his header wide.
Just one minute later, another free-kick from Georgiou proved dangerous. This time is was met by Max Hunt who sent the ball back into the six-yard box, however, he couldn't quite find Bevan who was waiting to pounce.
Continuing to control the game, Jamie Andrews looked for Alex Fisher who attempted an audacious flick, which was easily claimed by Dan Gyolai.
Substitute Andrew Oluwabori enjoyed an exciting cameo off the bench. He found Fisher who flicked the ball towards goal and forced another save from Gyolai.
As the game grew on, it seemed a draw was inevitable, with few chances falling in the final moments. A draw was what it was, as Yeovil now turn attention to Gateshead on Saturday.
Yeovil Town: Smith; Reckord, Richards-Everton, Hunt, Bevan; Staunton, Worthington, Andrews; Clark (Oluwabori), Georgiou (Toure), Fisher
Report courtesy of YTFC click here for more.