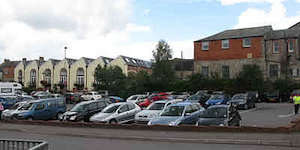 A public car park in Chard has received an 'eco-friendly' face lift. The Boden Street car park has been revamped with a new type of surfacing and low-energy lighting.
Operators of the car park, South Somerset District Council, have used a stabilised aggregate to cover the surface, rather than traditional tarmac, to reduce the energy used in the construction.

By using a stabilised aggregate, water is able to soak through to underlying soils that, in turn, reduce pressure on the town centre surface water drainage, and the risk of flooding. It also means that existing trees on the site can remain, by having access to water and space in which to grow.
Existing lighting at the car park has been replaced with new low-energy LED fittings that contribute to a significant reduction in the use of electricity and the overall carbon footprint of the project.

Portfolio holder for the Chard Regeneration project, Councillor Jason Baker, said Boden Street was the first council-owned car park in South Somerset to use these materials. It was good, he said, that trees on the site had been retained, and the risk of flooding reduced, through using locally sourced materials in the construction.