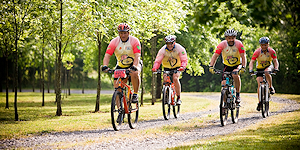 Measures are planned to install further, more permanent schemes to support cycling and walking in Yeovil.
In a bid to secure funding from The Department for Transport, the Somerset Active Travel Group has taken on board community feedback to identify opportunities for cycling, to replace journeys previously made by car or public transport.
Proposals submitted for Yeovil build on the success already achieved in improving safety conditions for cyclist and walkers.
Schemes planned include:
A Town Centre Walking and Cycling Package that will continue the transformation of the Yeovil High Street. A new Bus Gate aimed at reducing the dominance of general vehicular traffic will be provided together with the installation of two new cycle storage facilities.
A Strategic Cycleway on Lyde Road in Yeovil with three sections of segregated cycleway approximately 1 kilometre in length. This will be an 'on and off' carriageway solution, serving the Eastern residential and commercial areas of Yeovil.
The Somerset Active Travel Group comprises all five local councils in Somerset, who consult with town councils, traders, and voluntary cycle group and local communities -
Delivery of the Yeovil schemes is dependent on the level of funding provided.