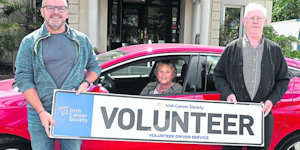 If you're aged over 18, have a clean driving licence and you own a four-door car, you could play a rewarding role as a volunteer driver, helping people get to vital medical appointments.
Volunteer drivers provide a crucial transport service for non-emergency NHS patients and social care users, enabling them to get to locations across Somerset and further afield.

Volunteer drivers also provide a valuable service, helping transport children to colleges and local schools.
Somerset County Council is recruiting more volunteer drivers now that coronavirus restrictions have eased, and there is more demand for the service.

Somerset is a rural county with a large elderly population and even by committing as little as one day per week, volunteers can make a huge difference.

Volunteers drivers are supported by the County Council, and mileage expenses up to 50p per mile are reimbursed.