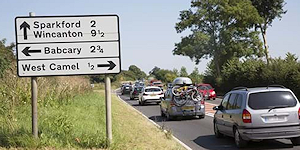 Highways England has announced a start date for dualling the A303 between the Sparkford and Podimore in South Somerset.
Work on the £250 million scheme will begin in September and take two years to complete.

Twenty Three Thousand Five Hundred vehicles use the A303 in South Somerset on an average day and dualling the road has been a long time in the coming.
While the stretch between Sparkford and Podimore is closed for construction, traffic will be diverted via Camel Cross.
A temporary road will be constructed at Howell Hill for materials to be moved to avoid lorries clogging up local roads. Another temporary road will be built at Steart Hill for use by contractors.
A new bridge will be built at Downhead, connecting local roads in the area and spanning the new dual carriageway, an under-bridge will also be built to provide access to Hazlegrove School.
Highways England says their people have begun marking out areas for putting up new fencing.
Between Downhead Lane to Steart Hill: A new compound will be created, with wildlife being relocated and a significant quantity of earth being removed to allow for the construction of the new bridge. Target date: late-August 2021-October 2022
Steart Hill overbridge: The new bridge will span the new dual carriageway to connect existing roads near the Downhead junction to the A303. Target date: September 2021-May 2022
Southern haul road and temporary bridge: A temporary road will be constructed south of the existing A303 at Howell Hill near West Camel, so that materials can be moved to and from the construction site without clogging up local roads. Target date: September 2021-May 2022
Northern haul road: A further temporary road north of the existing A303 will serve construction traffic needing to move between Steart Hill and the Hazlegrove roundabout without using the local road network. Target date: September 2021-October 2021
Camel Hill to Hazlegrove roundabout: The site will be cleared and a second compound built, with a new entrance from the roundabout being constructed to link up with existing local roads. Target date: September 2021-May 2023
Hazlegrove underbridge: This will allow the new A303 to be carried over local roads and provide new access to Hazlegrove School. Target date: December 2021-September 2022
Transport secretary Grant Shapps MP finally granted permission for the £250M scheme in January 2021, with construction expected to last until 2024.
Highways England has now published details of the construction timeline and has confirmed it intends to begin work on-site in the autumn.
Posting on its official Twitter account, a spokesman said: "We're preparing to start work on the A303 Sparkford to Ilchester scheme in September. "You might soon see some of our construction team out and about in the area. We'll be marking out the areas of land that need fencing and setting up our site offices and compounds."
The scheme will see a stretch of around three miles dualled between the two roundabouts, with the new carriageway largely following the footprint of the existing road.
Yeovil MP Marcus Fysh has welcomed the news surrounding the Ilchester scheme, which straddles his constituency and the neighbouring Somerton and Frome seat currently represented by David Warburton. He added that he was pushing the government to make improvements to the Ilminster bypass in the years to come.
To view the exhibition, CLICK HERE and follow the recommended links