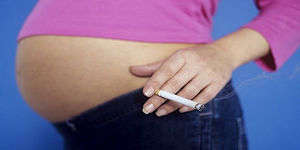 Smoking in pregnancy is a sensitive issue that needs to be treated as an addiction and not a lifestyle choice, according to health care professionals in Somerset.
Recent statistics suggest that 10% of babies delivered in Somerset are born to pregnant smokers… bringing a wide range of potential complications and health impacts.

NHS Somerset has warned that unless the issue is treated seriously, smoking will continue to be a leading cause of miscarriage, premature birth and even cot death. They say smoking during pregnancy is a hidden problem as it's no longer acceptable to smoke in public places with smoking in the home a big concern and second-hand smoke, from others smoking in the home, being just as harmful to babies.
The support group, Mums2Be Smokefree, says smoking during pregnancy needs to be treated as an addiction. Women will often stop smoking when they find out they are pregnant but an unexpected stressful event can lead to them starting to smoke again.
Mums2Be Smokefree is part of Smokefreelife Somerset, which offers one-to-one support to help quit smoking before, during and after pregnancy. Alongside Nicotine Replacement Therapy which is provided free of charge by the service, it offers free support and shopping vouchers as incentives at different smoke-free stages. The service also supports significant others wishing to quit. Appointments take place at home and by telephone. Contact Smokefreelife Somerset on 01823 356222