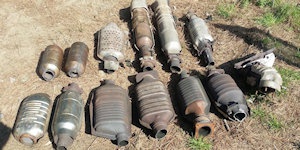 Police are appealing for witnesses to the theft of a catalytic converter from a vehicle parked at Ham Hill near Yeovil.
It's the latest in a spate of thefts of catalytic converters from cars left parked in public spaces.
The incident at Ham Hill involved a Renault Clio and happened on the evening of Tuesday, April 13th.
If you saw anyone acting suspiciously in the area at the time, you're asked to call the police non-emergency number: 101
To help prevent your vehicle being targeted, police are encouraging motorists to adopt the following advice:
Park your car in a locked garage otherwise park it in a well-lit and well-populated area, where neighbours and passers-by could see anyone tampering with your vehicle.
Park close to a fence, wall or kerb to make it more difficult for thieves to slide under the vehicle to use cutting tools to detach the catalytic converter
Avoid parking half on the pavement and half on the road as this makes it easier for thieves to access the catalytic converter.
If parking in a public car park, park alongside other cars and, if possible, face the bonnet towards a wall. With the catalytic converter positioned at the front of the vehicle, this makes it harder for thieves to get close enough to steal it.
If your catalytic converter is bolted on, you can ask your local garage to weld the bolts to make it more difficult to remove.
Etch a serial number onto the converter to assist police should yours be stolen. Some garages will do this for you, and you will also be provided with a sticker to be displayed in your window indicating your catalytic converter is marked to deter offenders from targeting your vehicle.