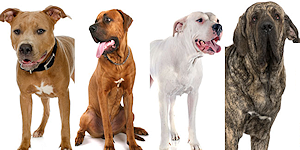 There's been a big increase in reported cases of dangerous dogs on the loose in South Somerset.
Owners are being reminded of legislation that makes ownership of a dangerous dog a criminal offence.
Under the Dangerous Dog Act 1991, it is a criminal offence to allow a dog to be dangerously out of control, causing fear or apprehension to a person. The dog does not necessarily have to bite or attack someone to come under this legislation.

The owner or person in charge of the dog can be prosecuted and Magistrates have the power to remove the dog or 'order it to be destroyed.
Owners are being pointed in the direction of RSPCA for advice on training a dog. The RSPCA recommends teaching dogs basic commands, as this will allow dogs greater freedoms while being safe and under control. For dogs with behavioural problems, they recommend a qualified behavioural specialist, who can tackle issues such as excessive barking, aggression, destructiveness and phobias.
Top tips for training a dog are:
Always start lessons for new tricks in a quiet room in your house away from any distractions
Break the training up into short but regular sessions so your dog isn't overwhelmed
End with something your dog knows, so the session finishes positively
South Somerset District Council is now working with the local police to raise awareness of the issue of dangerous dogs.