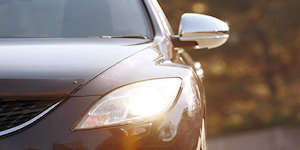 Drivers have been urged to make sure they understand the rules around flashing headlights at other motorists or risk a potential fine 
While it may be courteous among drivers to flash a vehicle's headlights to prevent a fellow road user from being caught speeding, you could be breaking the law, because using headlights to alert a road user of a speed camera or police ahead is illegal.
Police are able to charge drivers if they perceive the motorist has obstructed their ability to conduct speed checks.
Also, flashing headlights to threaten or intimidate a fellow driver could be considered careless, dangerous, or even "furious" and carries penalty points and fines.
These actions are capped at level three on the fine-scale, with a maximum penalty of £1,000.
Under the Highway Code, drivers are instructed to use their headlights "only to let other road users know that you are there," and not to attempt "to convey any other message".
The Highway Code reads: "Do not flash your headlights to convey any other message or intimidate other road users."Never assume that flashing headlights is a signal inviting you to proceed. Use your own judgement and proceed carefully."
While flashing to give someone priority at a junction is counter to the guidance in the Highway Code, using your lights to intimidate other road users or warn of speed cameras or other police activity is also against the law.