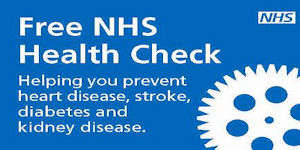 Somerset Public Health is urging everyone who's eligible, to get a free NHS Health Check to lower the risk of developing serious health conditions.
The NHS Health Check is available to people aged between 40 and 74 years old who don't have a pre-existing long-term condition.
The NHS Health Check is an important step for people towards improving their health and becoming more aware of leading a healthier life. It can help lower the risk of developing heart disease, stroke, kidney disease, type two diabetes and dementia.
Director of Public Health in Somerset, Professor Trudi Grant says the NHS Health Check provides an opportunity for people to take control of their health and gives people access to information and local services that will support them in making changes that will reduce their risk of long-term illness.
The health check takes 20 to 30 minutes and consists of recording a patient's height, weight, gender, ethnicity and age. A short questionnaire about family medical history will also be filled out.
Attending a free NHS Health Check helps people be better prepared for their future. It identifies risks early on, giving people the opportunity to take steps to reduce them and improving their chance of staying healthy as they age.

NHS Health Checks are available at your GP surgery, at participating pharmacies and at a number of specialist clinics at Libraries and other community spaces.