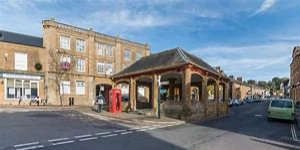 Green Ilminster is looking for people with the skills and equipment to take part in a new project, to help make the town more sustainable.
Based on the idea of a Repair Café, the project is about repairing broken items and sharing tools, space and knowledge.
The aim is to fix as many things as possible to avoid them going to landfill, as well as the project being a hub for passing on items like garden tools, camping equipment and school uniforms, that are perfectly serviceable but no longer needed.

Green Ilminster has secured premises in Silver Street as a base for this "let's do it together" enterprise.
Organiser, Sarah Hunt, says the Ilminster Share and Repair Project will bring many benefits to the town, including reducing waste, saving money, and improving people's wellbeing.

The town's Mayor, Councillor Phil Burton says the Ilminster Share and Repair project is an excellent way to encourage people to re-use and repair items, and a great way for local people to support each other.

Repairs will be carried out by volunteers in exchange for a donation, whilst a range of 'most-wanted' items will be available to borrow for a small fee.
To find out how to take part in the Ilminster Share and Repair project, go to our website: radioninesprings.com

Ilminster Share and Repair is a not-for-profit project, which aims to become self-sustaining within its first year. So, if you have skills to share or items that could be donated to our Library of Things please contact Sarah on 07816 213428 or Natalie on 07746727002. Donations to help with start-up costs are also welcomed via Green Ilminster's Just Giving page. You can find this at: https://www.justgiving.com/crowdfunding/ilminstershareandrepair