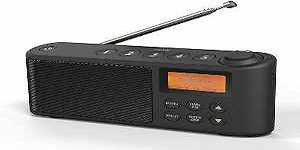 Radio stations have received a huge thanks from the public for the help they've given during the lockdown.
Research has shown that daily listening to radio has grown substantially since the start of the pandemic, with radio, one of the most trusted for news and information. People, working in isolation at home, say radio helps boost their mood and keeps them connected with the outside world. They like local radio because the Presenters/DJ's sound friendlier and tell them about local things happening with the pandemic. Half of respondents say they now listen to radio for longer each day, suggesting new listening habits have been established.
Some of our leading politicians have commented on the role of radio during the pandemic:
Chancellor, Rishi Sunak, said with people separated from family and friends, radio has been more important than ever.
Health Secretary, Matt Hancock, said radio had kept people informed and entertained throughout the pandemic.
Secretary of State for Digital, Culture, Media and Sport (including Radio) Oliver Dowden said listening to radio was like having someone in the room. It was a lifeline for people who lived alone.
It's good that radio is getting this recognition from such a high level in government. The hope is that it will translate into greater government support for Community Radio.
The national body representing our sector – the Community Media Association – has launched a campaign to persuade the government to use CR for public messaging be it health, road safety, cutting crime, registering to vote, etc. CR stations are uniquely placed to communicate these messages, not least, because of their closeness to audiences, many of whom are 'hard to reach'.
Radio Ninesprings has played out public messages for the government throughout the pandemic but has not been paid for doing so. This contrasts with newspapers who have been given substantial sums to print government information advertisements. Across the CR sector, airtime was given for government messaging at no charge because, with the country in an emergency, it was thought to be the right thing to do. CR stations have running costs too and revenue from advertising is often not enough to cover these costs. Community Radio is sufficiently important to justify having limited public funding, albeit in the form of the government paying for ads to run on stations. Given that the government spends huge amounts on TV and national radio marketing, it is not a lot to ask that they pay something.
I regard stations like Radio Ninesprings as being no different to a council-funded theatre or leisure centre, we are all important community assets and deserve to be funded likewise.
If the pandemic has highlighted anything it has been the need for good local communications. Social media and websites play a part but with radio it's real people you hear talking and this human element is what makes radio such an effective medium.
Next year, will mark 100-years of the BBC. The 'wireless', as it was called, has come along way in that time but radio is no longer the preserve of the BBC, nor is local radio the preserve of just BBC local radio. There are now more than 300 Ofcom licensed CR stations in the UK, attracting sizable audiences. People will always listen to the local station closest to them.
There's still a lot of talking to do with the government before they are persuaded of the true value of local community radio but our support is building, our case is a strong one, and eventually we will win through.
By Steve Haigh,
Station Manager, Radio Ninesprings 104.5 fm
Source of research: Media Nations Report.