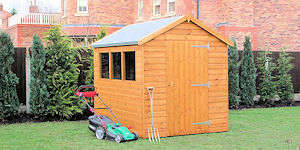 Most of us don't think twice about locking doors but we often overlook making sure a shed or garage is left secure.
The value of items in a shed, garage, or outbuilding, can be more than you think so to protect what belongs to you make sure you have the appropriate security in place.
The most common way a burglar gets into a shed is through the door so make sure the shed door is locked, make it difficult to get into your garden in the first place by locking all garden gates.
Another option is to fit an alarm to a shed. Fit it to the back of the shed so a burglar would have to climb across items to disable it. This may scare them off and would let you know someone was in your shed.
Valuables inside the shed should be locked; especially bikes, which provide rich pickings to burglars.
If your shed has a concrete floor, secure bikes and valuable items to the floor, as well as to the wall of the shed and if you can't do this then chain as many items as you can together. Also, organise things inside your shed so that all valuable items are at the back and are harder to reach.