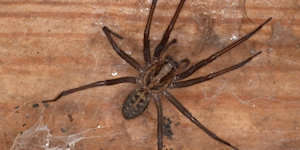 As the nights get darker and temperatures fall, experts are warning of spiders crawling into people's homes, bringing with them an increased risk of getting bitten.
There are a few things you can try to deter spiders:
Ensure your house is clean, as spiders love dark, damp and cluttered places.
Vacuum and dust regularly, and store things in plastic-lid boxes rather than cardboard.
Avoid leaving blinds or curtains closed during the day, as spiders love the dark.
Spiders 'smell' with their legs, so strong scents will deter them, they also taste with their feet and don't like chalk, so drawing a line in chalk around window sills, a bed, or doorways will help deter them.
Bites leave small puncture marks on the skin that can be painful and cause redness and swelling. If you are bitten and have concerns, contact your GP for advice.
Avoid allowing plants to grow too close to your home to creep as spiders will hide away in them. Leaf litter and accumulating wood piles also make for great spider hiding places, so be sure to keep your outdoor space tidy. There is no evidence that conkers are effective at keeping spiders out.
Other strong aromas are likely to work better, such as garlic or vinegar. Some spiders bites can cause you to feel or be sick, sweating and dizziness. Bites can also become infected or cause a severe allergic reaction in rare cases. Get medical help immediately if you have any severe or worrying symptoms after a spider bite.

The warning comes as the Met Office predicts temperatures across the UK will drop in the coming weeks.