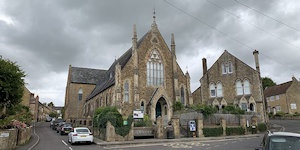 The David Hall arts centre in South Petherton, is now busy preparing for live events coming back from mid-May.
"The past 12 months have been tough, though we have been lucky enough to stage several live events to small, socially-distanced audiences, and have also streamed performances into supporters' homes," explained Emma Westerman, The David Hall's Administrator. "Reopening slowly from mid-May means we will implement a substantial list of measures to ensure people's safety against the coronavirus but, all being well, towards the end of June our audiences will be able to enjoy themselves in arrangements which will be more like our normal live events. We know that there is always the possibility that the guidance and regulations may change but whatever the future holds, PAT will do everything necessary to protect our loyal audience, volunteers and our valued performers."

The current plans are that PAT will hold the first Acoustic Night of the year on Saturday 29th May, following a Coffee Morning on Wednesday 26th. On Friday 28th May, Petherton Picture Show will screen its first film of 2021 and then continue once a month until the end of the year. On six other dates in May, students from Richard Huish College will use The David Hall for live performances as part of their course programme.

During June, PAT will welcome artists for live events on three dates with two performances on each. The Hall will present the musical duo Belshazzar's Feast, Louise Jordan performing as Florence Nightingale and the Somerset-based singer/songwriter Kitty Macfarlane. For each of these events, the audience will be socially distanced and all other arrangements will be in line with the Government Regulations in place at that time.

From Monday 21st June, The David Hall plans to open for full-capacity gigs and from July onwards, will offer its usual exciting monthly programme of music, dance, film, coffee mornings, acoustic nights and, occasionally, theatre. "This year, we will also be holding events during August, including The David Hall's first performance by the Bristol reggae band: Talisman," Emma Westerman explained.

Details of all events, their dates and times, can be found on the website www.thedavidhall.org.uk and tickets can be purchased online or by calling 01460 240 340. Full information about safety procedures and audience requirements is also on the website.