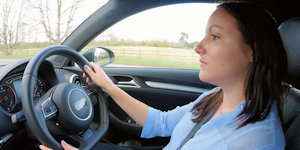 A warning's been issued about wearing certain items of clothing and footwear when driving.
Maxi dresses, sunglasses, and boots, are among seven items identified by experts as dangerous and that put motorists at risk of breaking the law.
Drivers face a £100 on-the-spot fine and three penalty points for careless driving if they're found wearing inappropriate clothing that restricts them manoeuvring correctly.
If an incident goes to court, the penalty could go up to a £5,000 fine, nine penalty points, and even a driving ban.
Rule 97 of the Highway Code states that 'the clothing and footwear chosen to wear whilst driving must not prevent the motorist from using the controls in the correct manner.'
Long dresses could get caught underneath the pedals of a car or restrict the use of them, which is far from ideal. For the same reason, baggy jeans are likely to be unfit for driving.
Thousands of motorists get behind the wheel in flip-flops and sliders but just how safe are they? Just remember, flip-flops are for the beach, not the driver's seat.
The RAC says 40 percent of women say they drive in high heels and although they may look classy, high heels are not practical for the pedals.
The advice is to use common sense and, if what you're wearing makes your drive uncomfortable, it's probably a sign that you should change into something more practical.