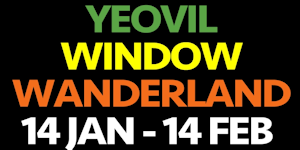 Yeovil Arts Space is delighted to announce that they are running the second edition of Yeovil Window Wanderland for 2022!
Yeovil Window Wanderland is back!
The 1st edition was a great success! With more than 200 window displays around the town and surrounding villages, put together by local residents, businesses and organisations.
The 2022 event starts from 14th January running until 14th February. This year, We have joined forces with LoveYeovil, as part of a wider programme that provides the community the activities to support mental health and general wellbeing, building resilience during this difficult time, with the funding received by South Somerset District Council. Alongside the funding support from Arts Council England and Co-op Local Community Fund, Yeovil Window Wanderland once again promises to light up our town and for all to enjoy! It is a Covid-safe event and free!
Check out ideas here: https://www.windowwanderland.com/gallery/

You can also get inspiration from our artists by watching step by step guides online, join the workshop and/or get hold of the resource pack. The artists will share with you a number of ideas and methods to create your unique window display with easy to find, affordable or free materials!
Sign up and your location will appear on the map below shortly. Only your street name and postcode will appear for your privacy.
Should you have any questions about taking part, please email us: yeovilwindowwanderland@gmail.com